Over 2 light years across and over 2000 light years away from Earth: The Ghost Nebula (Hubble)
(via ohtomorrow)
may use this for my next header… or  i may have a  contest theres 1k followers.  whos in to see who can make the best scifi, space, alien, ghost, phenomenon, ufo type header for unexplained things. also this may find its way around give it a try send me what you got and if i get alot i just might change one up ever week. winner will get(the pride of knowing yup mine was first :P) there header displayed for a month or longer (i update this on fb more there tumblr) other users will get there banner up for a week. looking for word to see what my wonderful followers can do.
Asteroid Makes Close Call: 2012 DA14 to Pass Earth Feb. 15
http://abcnews.go.com/Technology/asteroid-2012-da14-pass-close-earth-february-15/story?id=18413554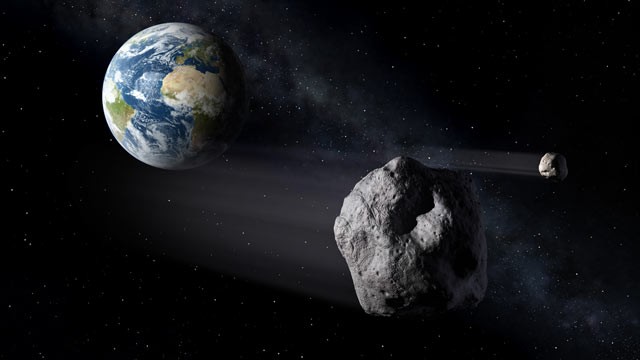 It begins to get on your nerves. Every now and then — a few times a year, depending on what you count — an asteroid goes whizzing past Earth at fairly close range, reminding us that sometimes outer space isn't quite as, well, spacious as we may like to think.
This month's visit will be by a fast-moving space rock called 2012 DA14, which will pass about 17,200 miles from Earth's surface on Feb. 15. It's only about 150 feet across, so astronomers say not to bother to look for it in the sky — but it will be closer than the communications satellites that ring the planet, 22,000 miles away.
NASA scientists have had a lot of time to plot the orbit of 2012 DA14, and they say they are quite sure it will miss us. There are dust-sized pieces of debris plowing harmlessly into the atmosphere all the time; we see some of them as shooting stars at night. Impacts like the one that wiped out the dinosaurs, 65 million years ago, are separated by tens of millions of years.

A 330-foot meteor exploded in the atmosphere above the Tunguska River with an impact 1,000 times more powerful than the atomic bomb that destroyed Hiroshima. The force was enough to destroy an area the size of San Francisco.
Edward T. Lu is a physicist and former astronaut who flew two space shuttle missions and spent six months on the International Space Station. For skeptics who think asteroid impacts are science fiction, he said, check what happened in Siberia in 1908.
So, say scientists, it's worth keeping a lookout — and worth paying attention when something the size of 2012 DA14 passes by. The chances that any one object will hit us are very small, but almost inevitably there will be asteroids or comets headed our way, with serious consequences that we may now be able to prevent."But it has happened and it can happen again," said Humberto Campins of the University of Central Florida. "So as a species it is important we learn all we can about asteroids in case we have to deflect one. And there are other reasons for us to investigate. Asteroids could provide precious resources both to Earth and to space travelers, and they hold secrets to how our planet and life on it formed."
Lu now heads the non-profit B612 Foundation, a group dedicated to hunting down asteroids before they hit Earth. B612 wants to launch the first privately funded deep-space mission: Sentinel, a space telescope to orbit the sun and map the inner Solar System in search of asteroids that could smash into Earth.
NASA already watches with ground-based telescopes, but every now and then there's a surprise — a hunk of rock or metal that passes near Earth without much advance notice.
"For every one we know about, there are about 100 more we don't know about," Lu said. "We have to find the other 99."
"Once we find an asteroid," he said, "it is possible for us to predict its trajectory. We know the government wants to discover asteroids big enough to wipe out the planet, but we also want to find those that could wipe out a city the size of New York, or Hong Kong, or Houston."
Fifteen years ago, in the movie "Armageddon," Bruce Willis led a team of roughneck astronauts who tried to blow up a threatening asteroid with a nuclear weapon. Lu and other scientists — even those who spend their careers watching for threats — say the reality would be much less dramatic. If you spot an incoming asteroid well in advance — and that's the idea behind Sentinel — you just have to nudge it ever so slightly.
Lu and astronaut Stan Love have proposed a space tug, a rocket that would launch to the same orbit as an asteroid threatening to hit the Earth, and push it just enough to make it harmless.
"You don't have to change much. One hundred thousandth of a mile an hour is enough, 10 years ahead of time, to cause an asteroid to miss the rendezvous with Earth," Lu said.
With this month's visitor, 2012 DA14, no action will be necessary. Some scientists will use the opportunity to take a relatively close-up look at a passerby; others say to think of it as a sort of shot across our bow.
"We have been given a gift, the ability to protect our planet," Lu said. "We shouldn't squander it."
Center of Merging Galaxy System ESO202-G23 

Credit: ESO 
opps uploaded to wrong blog :P
feel free to follow me on there aswell, but it has nothing in common with this what so ever. :D
part 2: http://www.youtube.com/watch?v=GF5yBbY3EFE
part 3: http://www.youtube.com/watch?v=-GV4Daje270
Published on Dec 5, 2012
THE FIRST PART OF THE ALCYON PLEIADES TRILOGY
http://alcyonpleiades.blogspot.co.uk
The following video shows us the events that are already taking place in the cosmos with the approaching of a huge amount of electromagnetic energy coming from the Sun Alcyone of the Pleiades towards our planet Earth and the entire Solar System.

Realistic re-creation with original images of incredible cosmic events that will lead to a radical transformation of the world such as we know it and the creation of a new Photonic Era.

Video created by: ALCYON
Some believe Friday is doomsday on the Mayan calendar; the Mayans don't
ISS Fly By
Time: Fri Dec 14 5:48 PM, Visible: 3 min, Max Height: 68 degrees, Appears: WSW, Disappears: NE
MESSENGER Probe Finds Strong Evidence of Ice On Mercury
"Just in time for the holiday season, the NASA space probe MESSENGER appears to have all but confirmed the existence of ice at Mercury's north pole. Ice has long been suspected to be hiding in permanently shadowed areas in deep craters at the planet's pole, but new data show several converging lines of evidence (thermal and visible light mapping, radar, neutron emission) that as much as a trillion tons of ice may be buried just centimeters deep under the surface. Scientists also see evidence of organic (carbon-based) molecules as well. That's not life, but it's more of an indication that volatile compounds can exist on the solar system's innermost planet.""New results from the MESSENGER spacecraft not only confirm that the planet closest to the sun has ice inside shaded craters near the north pole, but that a thin layer of very dark organic material seems to be covering a good part of the frozen water. Both likely arrived via comets or asteroids millions — or hundreds of millions — of years ago."
Carl Sagan Was On US Team To Nuke the Moon
"Apparently during the cold war, one fall-back position the U.S. was looking at to ensure mutual assured destruction was to put nukes on the moon. This would ensure that the U.S. could retaliate against even an effective first strike by the Russians. The first step, of course, would be to detonate a nuke on the moon. And yes, Carl Sagan was on the team (and apparently leaked the info!)"
Amazing Photo Captures 84 Million Stars in Our Milky Way Galaxy
This view of the central parts of the Milky Way was obtained with the VISTA survey telescope at ESO's Paranal Observatory in Chile. The huge picture contains nearly nine billion pixels and was created by combining thousands of individual infrared images from VISTA into a single monumental mosaic. The image is too large to be easily displayed at full resolution.
CREDIT: ESO/VVV Consortium; Acknowledgement: Ignacio Toledo 

Astronomers have catalogued 84 million stars at the heart of the Milky Way galaxy using an enormous cosmic photo snapped by a telescope in Chile, a view that is billed as the largest survey ever of the stars in our galaxy's core.
The staggering 9-gigapixel picturewas created with data gathered by the Visible and Infrared Survey Telescope for Astronomy (VISTA), an instrument at the European Southern Observatory's Paranal Observatory in northern Chile. The zoomable image is so large that it would measure 30 feet long by 23 feet tall (9 by 7 meters) if printed with the resolution of a typical book, researchers said.
The catalogue derived from the new image contains 10 times more stars than previous studies have provided. It should help astronomers better understand the structure and evolution of our home galaxy, researchers said.
"By observing in detail the myriads of stars surrounding the center of the Milky Way we can learn a lot more about the formation and evolution of not only our galaxy, but also spiral galaxies in general," study lead author Roberto Saito, of the Pontificia Universidad Católica de Chile, Universidad de Valparaíso and The Milky Way Millennium Nucleus, said in a statement. [Stunning Photos of Our Milky Way Galaxy]
The huge new picture probes the Milky Way's central bulge, a concentration of ancient stars found near the core of most spiral galaxies. Getting good looks at this region is not an easy task.
"Observations of the bulge of the Milky Way are very hard because it is obscured by dust," said co-author Dante Minniti, also of Pontificia Universidad Catolica de Chile. "To peer into the heart of the galaxy, we need to observe in infrared light, which is less affected by the dust."
VISTA was able to do just that, snapping thousands of infrared images that were combined to generate a monumental color mosaic measuring 108,200 by 81,500 pixels. It's one of the biggest astronomical images ever produced, researchers said.
This very wide-field view of the Milky Way shows the extent of the 84-million-star VISTA infrared image of the center of the galaxy (delineated by red rectangle).
CREDIT: ESO/Nick Risinger (skysurvey.org)
Astronomers identified 173 million different objects in the 9-billion-pixel image, of which 84 million could be confirmed as stars. The rest were distant objects such as galaxies, or they were too faint or blended to be identified conclusively.
Saito and his team then plotted the brightness of each star against its color, creating a color-magnitude diagram with 84 million data points. These diagrams are valuable tools, helping astronomers study star properties such as temperature, mass and age.
"Each star occupies a particular spot in this diagram at any moment during its lifetime," Minniti said. "Where it falls depends on how bright it is and how hot it is. Since the new data gives us a snapshot of all the stars in one go, we can now make a census of all the stars in this part of the Milky Way."
The astronomers are making their data publicly available, so other research teams can use it to make exciting finds of their own.
The team published their results in the August issue of the journal Astronomy & Astrophysics.
Follow SPACE.com on Twitter @Spacedotcom. We're also on Facebook & Google+.