'Alien Earths' May Not Be Only Exoplanets Capable Of Supporting Life, Astronomer Says
By: Mike Wall 
Published: 05/02/2013 02:08 PM EDT on SPACE.com
Scientists searching for signs of life beyond our solar system should keep an open mind, for planets very different than Earth may well be habitable, a prominent researcher says.
While it may seem natural to zero in on "alien Earths," such a narrow focus would exclude many potentially life-supporting exoplanets, whose diversity continues to astound astronomers, says Sara Seager of MIT.
And researchers can't afford to be so picky, she adds, since they'll be able to get in-depth looks at just a handful of alien worlds for the foreseeable future. [9 Exoplanets That Could Host Alien Life]
"The number of planets that we're going to be able to see in our lifetime — and look at their atmospheres for signs of life— is so small that we're forced to be open-minded," Seager told SPACE.com.
Seager discusses exoplanet habitability in a review article published online today (May 2) in the journal Science.
A dazzling diversity of alien worlds
Scientists discovered the first alien planet around a sunlike star in 1995. Since then, the tally has grown to more than 700 (or more than 800, depending on whose list is consulted), with thousands more candidates waiting to be confirmed by follow-up observations.
Some of these alien worlds are broadly similar to planets in our own solar system. But many others are truly alien — enormous "hot Jupiters" that whip around their parent stars at extremely close range, for example, or "rogue planets" that cruise through the cold depths of space alone, with no parent star.
"If there is one important lesson from exoplanets, it is that anything is possible within the laws of physics and chemistry," Seager writes in the Science article. "Planets of almost all masses, sizes and orbits have been detected, illustrating not only the stochastic nature of planet formation but also a subsequent migration through the planetary disk from the planet's place of origin." [The Strangest Alien Planets]
Intriguingly, a number of planets have been spotted orbiting within the so-called "habitable zone" — that just-right range of distances from a star where liquid water is possible on a world's surface. (Water is required for life as we know it here on Earth and has thus spurred astrobiologists to "follow the water" on other planets, Seager writes.)
Just where this habitable zone lies for each planet depends on a number of factors, most crucially its host star's brightness and the planet's atmospheric makeup.
"It's really all about the greenhouse gases," Seager told SPACE.com. "The greenhouse gases are like a blanket that moderates the temperature at the surface."
Extending the habitable zone
The conventional definition of the habitable zone assumes a roughly Earth-like atmosphere, dominated by nitrogen, carbon dioxide and water vapor. But the huge diversity of alien worlds argues for a new way of thinking, writes Seager, who literally wrote the book on exoplanet atmospheres ("Exoplanet Atmospheres: Physical Processes," Princeton University Press, 2010).
For example, large and/or chilly alien worlds could conceivably hang onto their gaseous molecular hydrogen, which long ago escaped from small planets such as Earth, Venus and Mars.
Hydrogen is a powerful greenhouse gas that could make liquid water possible on a number of worlds far beyond the outer edge of the traditional habitable zone — and perhaps even on seemingly frigid rogue planets, Seager writes.
Similarly, the habitable zone may extend inward, toward the host star, on "dry" rocky planets whose atmospheres have much less water vapor than Earth's does. So it's best to consider alien planets' potential to support life individually, on a case-by-case basis, Seager says.
Looking for life
Seager and others stress that a better understanding of exoplanet habitability is key to the next phase of the alien life hunt, which seeks to search promising candidates' atmospheres for water vapor and gases that may have been produced by life.
Astronomers have already scanned the air of a few dozen planets using NASA's Hubble Space Telescope and other instruments, Seager said. But those were hot Jupiters with big, puffy atmospheres — relatively easy targets that aren't intriguing from an astrobiological perspective.
Scientists plan to do the same with smaller, potentially habitable worlds soon, Seager said. They'll use the Transiting Exoplanet Survey Satellite, which NASA recently approved for a 2017 launch, to identify promising candidates relatively close to Earth. Then NASA's James Webb Space Telescope (which is scheduled to blast off in 2018) will follow up, getting an in-depth look at these worlds' air.
Though JWST is designed to be incredibly powerful, the $8.8 billion instrument will probably only be able to investigate the atmospheres of exoplanets that lie within a few tens of light-years from Earth, Seager added.
Seager said she hopes her review article in Science helps her fellow astronomers make the most of this small pool of observable candidates.
"I hope it gets people to realize that so many types of worlds could be habitable, and that our chance of finding one is higher when we accept that," she told SPACE.com.
Follow Mike Wall on Twitter @michaeldwall and Google+
10 March 2013 Natural disaster from Sun EMP on earth - end times news
Asteroid Makes Close Call: 2012 DA14 to Pass Earth Feb. 15
http://abcnews.go.com/Technology/asteroid-2012-da14-pass-close-earth-february-15/story?id=18413554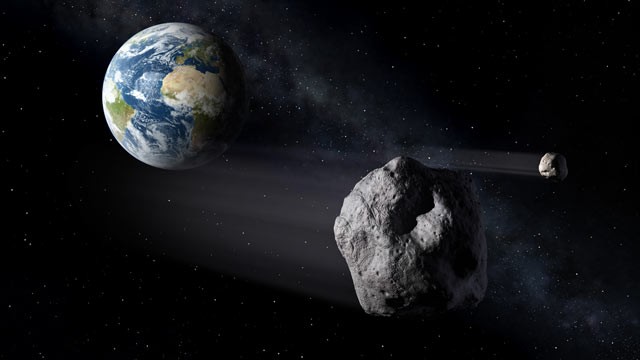 It begins to get on your nerves. Every now and then — a few times a year, depending on what you count — an asteroid goes whizzing past Earth at fairly close range, reminding us that sometimes outer space isn't quite as, well, spacious as we may like to think.
This month's visit will be by a fast-moving space rock called 2012 DA14, which will pass about 17,200 miles from Earth's surface on Feb. 15. It's only about 150 feet across, so astronomers say not to bother to look for it in the sky — but it will be closer than the communications satellites that ring the planet, 22,000 miles away.
NASA scientists have had a lot of time to plot the orbit of 2012 DA14, and they say they are quite sure it will miss us. There are dust-sized pieces of debris plowing harmlessly into the atmosphere all the time; we see some of them as shooting stars at night. Impacts like the one that wiped out the dinosaurs, 65 million years ago, are separated by tens of millions of years.

A 330-foot meteor exploded in the atmosphere above the Tunguska River with an impact 1,000 times more powerful than the atomic bomb that destroyed Hiroshima. The force was enough to destroy an area the size of San Francisco.
Edward T. Lu is a physicist and former astronaut who flew two space shuttle missions and spent six months on the International Space Station. For skeptics who think asteroid impacts are science fiction, he said, check what happened in Siberia in 1908.
So, say scientists, it's worth keeping a lookout — and worth paying attention when something the size of 2012 DA14 passes by. The chances that any one object will hit us are very small, but almost inevitably there will be asteroids or comets headed our way, with serious consequences that we may now be able to prevent."But it has happened and it can happen again," said Humberto Campins of the University of Central Florida. "So as a species it is important we learn all we can about asteroids in case we have to deflect one. And there are other reasons for us to investigate. Asteroids could provide precious resources both to Earth and to space travelers, and they hold secrets to how our planet and life on it formed."
Lu now heads the non-profit B612 Foundation, a group dedicated to hunting down asteroids before they hit Earth. B612 wants to launch the first privately funded deep-space mission: Sentinel, a space telescope to orbit the sun and map the inner Solar System in search of asteroids that could smash into Earth.
NASA already watches with ground-based telescopes, but every now and then there's a surprise — a hunk of rock or metal that passes near Earth without much advance notice.
"For every one we know about, there are about 100 more we don't know about," Lu said. "We have to find the other 99."
"Once we find an asteroid," he said, "it is possible for us to predict its trajectory. We know the government wants to discover asteroids big enough to wipe out the planet, but we also want to find those that could wipe out a city the size of New York, or Hong Kong, or Houston."
Fifteen years ago, in the movie "Armageddon," Bruce Willis led a team of roughneck astronauts who tried to blow up a threatening asteroid with a nuclear weapon. Lu and other scientists — even those who spend their careers watching for threats — say the reality would be much less dramatic. If you spot an incoming asteroid well in advance — and that's the idea behind Sentinel — you just have to nudge it ever so slightly.
Lu and astronaut Stan Love have proposed a space tug, a rocket that would launch to the same orbit as an asteroid threatening to hit the Earth, and push it just enough to make it harmless.
"You don't have to change much. One hundred thousandth of a mile an hour is enough, 10 years ahead of time, to cause an asteroid to miss the rendezvous with Earth," Lu said.
With this month's visitor, 2012 DA14, no action will be necessary. Some scientists will use the opportunity to take a relatively close-up look at a passerby; others say to think of it as a sort of shot across our bow.
"We have been given a gift, the ability to protect our planet," Lu said. "We shouldn't squander it."
part 2: http://www.youtube.com/watch?v=GF5yBbY3EFE
part 3: http://www.youtube.com/watch?v=-GV4Daje270
Published on Dec 5, 2012
THE FIRST PART OF THE ALCYON PLEIADES TRILOGY
http://alcyonpleiades.blogspot.co.uk
The following video shows us the events that are already taking place in the cosmos with the approaching of a huge amount of electromagnetic energy coming from the Sun Alcyone of the Pleiades towards our planet Earth and the entire Solar System.

Realistic re-creation with original images of incredible cosmic events that will lead to a radical transformation of the world such as we know it and the creation of a new Photonic Era.

Video created by: ALCYON
$1 Billion Mission To Reach the Earth's Mantle
"Humans have reached the moon and are planning to return samples from Mars, but when it comes to exploring the land deep beneath our feet, we have only scratched the surface of our planet. This may be about to change with a $1 billion mission to drill 6 km (3.7 miles) beneath the seafloor to reach the Earth's mantle — a 3000 km-thick layer of slowly deforming rock between the crust and the core which makes up the majority of our planet — and bring back the first ever fresh samples."
Solar Forecast
Solar Activity Forecast: Solar activity is expected to be moderate for the next 24 hours with 1520 and 1521 as the most likely source regions. Activity and background levels are expected to decrease significantly by the second and third days as these regions rotate beyond west limb.

Geophysical Activity Forecast: The geomagnetic field is expected to be quiet for the next three days. Model results for today's CME from the west limb indicate an interplanetary disturbance that is too far west to produce geomagnetic activity. The greater than 10 MeV proton event is expected to continue through part of the first day (18 July).
---
Solar X-ray Flux
This plot shows 3-days of 5-minute solar x-ray flux values measured on the SWPC primary GOES satellite. One low value may appear prior to eclipse periods. Click on the plot to open an updating secondary window. 6-hour 1-min Solar X-ray Flux plot.
---
Satellite Environment Plot
Proton Flux from GOES-13, Electron Flux and GOES Hp from GOES-13 & GOES-15
The Satellite Environment Plot combines satellite and ground-based data to provide an overview of the current geosynchronous satellite environment. Click on a data panel to open an updating secondary window. An updating Satellite Environment Plot window is also available.

Although these data are of interest to the satellite community, they do not include all parameters and energy ranges known to be associated with satellite anomalies. See related information from the NOAA POES satellite — Auroral Activity Estimates, Relative Intensities of Energetic Particles, and Solar Protons.
AnonymousFO - The Best of 2012 UFO Sightings
UFO Dropping Lights Over Escondido, California, USA
UFOs Filmed From Window On Apollo 11 Mission
Gigantic Disc Shaped UFOs Next To The Sun
UFO Captured By The ISS Camera
Flashing UFOs Over Norway
Flashing Blue UFO Over Russia
UFO Above Mission, British Columbia, Canada
Ghostly White UFO Above Chicago, USA
Diamond UFO Above Morin Heights, Canada
Triangle UFO Spotted Over Moscow, Russia
Flashing UFO Above Fresno, California, USA
UFOs Over Basel, Switzerland
Triangular UFO Over Sonora, California, USA
UFO making trumpets of the apocalypse sounds? Hong Kong, China
Hard Turning Craft Over Rotorua, New Zealand
UFO's Caught Live During ISS Flight
Coronal Cavity Sphere Deflects Solar Eruption
Fleet Of UFOs Over Dulce, New Mexico, USA
National Geographic - Down To The Earth's Core
ake a journey from the footpath to the centre of the planet in one epic unbroken step, smashing through more than 6,000 kilometres of solid rock to explore the hidden world beneath our feet. With its stirring soundtrack and commanding narration, it's initially unclear whether this documentary is supposed to enlighten or terrorise. Beneath our feet lies our greatest enemy, it begins. Suddenly we're falling down a coalmine in America's Midwest, marvelling at the fossilised plants that cover the ceiling. To understand how they got there, we have to go back 300 million years - and, thanks to clever computer-generated footage, we can. What follows is an informative account of our very own journey to the centre of the earth via 6000 kilometres of rock.
public debate on global warming
Dr. James Hansen, director of the NASA's Goddard Institute for Space Studies, who first made warnings about climate change in the 1980s, says that public skepticism about the threat of man-made climate change has increased despite the growing scientific consensus. He says that without public support, it will be impossible to make the changes he and his colleagues believe need to occur to protect future generations from the effects of climate change. 'The science has become stronger and stronger over the past five years while the public perception is has gone in completely the other direction. That is not an accident,' says Hansen. 'There is a very concerted effort by people who would prefer to see business to continue as usual. They have been winning the public debate with the help of tremendous resources.' Hansen's comments come as recent surveys have revealed that public support for tackling climate change has declined dramatically in recent years. A recent BBC poll found that 25% of British adults did not think global warming is happening and over a third said many claims about environmental threats are 'exaggerated,' compared to 24 per cent in 2000. Dr. Benny Peiser, director of skeptical think tank The Global Warming Policy Foundation, says it's time to stop exaggerating the impact of global warming and accept the uncertainty of predictions about the rate of climate change. 'James Hensen has been making predictions about climate change since the 1980s. When people are comparing what is happening now to those predictions, they can see they fail to match up.
Uploaded by tolerancethroughknow on Mar 16, 2009
Cover up of ancient Human fossil evidence. Why does science hide the truth? IS man really only 100 thousand years old? Did man evolve from monkleys or ape man on earth? What about Zecharia Sitchin and the Anunnaki of the Planet X Nibiru?
The Second Moons of Earth
"Despite a large body of work on satellite capture by the gas giants, mainly Jupiter and Saturn, there has been little published about the Earth's natural satellites other than the moon. Now Scientific American reports that although the moon has been with us for billions of years, Earth has also had countless other satellite companions and probably has one right now. These 'second moons' are boulders from the large population of near-Earth asteroids that get snagged by our gravity, orbit the Earth for a few months, then escape and move on. Known as 'Temporarily-Captured Orbiters' (TCOs), the irregular natural satellites are hard to see but astronomers spotted one such transient satellite in 2006. Dubbed 2006 RH120, the asteroid was a few meters in diameter, was captured by Earth for about a year and made four Earth orbits before being ejected after its June 2007 perigee back to interplanetary space. But TCOs are not just of academic interest. 'Once TCOs can be reliably and frequently identified early enough in a capture event they create an opportunity for a low-cost low-delta-v meteoroid return mission. The scientific potential of being able to first remotely characterize a meteoroid and then visit and bring it back to Earth would be unprecedented (PDF).'"
Do You Have the Right Stuff To Be an Astronaut?
"Do you have what it takes to become an astronaut? NASA, the world's leader in space and aeronautics is now hiring outstanding scientists, engineers, and other talented professionals until January 27, 2012 for full time, permanent employment to carry forward the great discovery process that its mission demands. 'Creativity. Ambition. Teamwork. A sense of daring. And a probing mind.' To qualify, you'll need at least a bachelor's degree in science, engineering or mathematics. Certain degrees are immediate disqualifiers, including nursing, social sciences, aviation, exercise physiology, technology, and some psychology degrees, too. The job listing mandates '1,000 hours pilot-in-command time in jet aircraft' unless you have three years of 'related, progressively responsible, professional experience' like being an astronaut somewhere else maybe? 'Since astronauts will be expected to fly on Russia's Soyuz spacecraft, they must fit Russia's physical requirements for cosmonauts. That means no one under 5 foot 2 inches or over 6 foot 3 inches.' Applicants brought in for interviews will be measured to make sure they meet the job application's 'anthropometric requirements.' You'll need to pass a drug test, a comprehensive background check, a swimming test, and have 20/20 vision in each eye and it almost goes without saying that candidates will need to be in 'incredible shape.' Applicants must pass NASA's long-duration space flight physical, which evaluates individuals based on 'physical, physiological, psychological, and social' stressors, like one's ability to work in small, confined spaces for hours on end. And of course…'Frequent travel may be required.'"